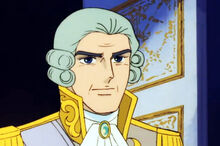 General Reynier de Jarjayes is the head of the Military in France, a member of the Royal court, husband of lady Emilie de Jarjayes and father of Oscar and her sisters as well as the grandfather of Oscar's niece and nephew from his daughters.
After having five daughters he was hoping to have a son to carry on his military work when he retires, but when Oscar was born he was deeply upset when he found out she was a girl. But then he got an idea, out of desperation, he declared that he will raise Oscar as a boy and make her into a filial 'son' that will bring pride to her father's military legacy. What General Jarjayes didn't know was that him raising Oscar as a boy would have consequences as he unknowingly sealed his daughter fate when he declared to raise her as a boy as it will get her killed in the Revolution when she grows up.
However, as Oscar got older, she had a very poor view of nobles and believed that most of them are criminals escaping justice with their titles and at the beginning she did not want to become a palace officer due to this. This causes conflict with father and daughter and general Jarjayes would hit her for saying those things, including when she fought Victor and when she left her house when she was under house arrest from Marie Antoinette, while he is seen angry, prideful and arrogant when doing so, everything he did was actually out of fear for his daughter as he states at those times, "It's the King's order," meaning that Oscar's act of rebellion against the crown could get her executed and General Jarjayes, while he wanted a son, did not want anything bad happening to his daughter.
As the years go by when Oscar left the palace to join the French army and he learns she got her heart broken from a man, General Jarjayes realizes the pain he put his daughter through and that raising her as a boy was a terrible mistake as he believes he made her feel she has to deny her femininity all together and that she couldn't really live or love freely as a woman because of his desperate wish for a son, and he apologized to her for how he treated her all those years, from hitting her and putting her in dangerous situations from him forcing her to join the royal guard and how she suffered, even crying a bit as he shown his daughter how remorseful he was. Oscar says that's not the case and says she is comfortable with her feminine side, with that Jarjayes says that she must meet the men at the party to find a husband so she could finally live as a woman as her father's way of making up to her for all the years of putting her through a difficult life as a soldier, but when she attended she dressed as a man and left, but General Jarjayes was not angry but actually cried, believing it was to late and he completely ruined his daughter's chances of living a normal life as a woman with a husband, and tearfully admitted that he was wrong for raising Oscar as a boy.
When Oscar and the French army fought against soldiers of her father's friends who were fighting of rebels, General Jarjayes was told to do something about his daughter. Knowing that Oscar's act would be seen as rebellion and that she could be executed for it, he decides to give Oscar a mercy killing to save her from a brutal death the king would give her and then kill himself to join her in the afterlife, only to be stopped by Andre who tells General Jarjayes that he is in love with Oscar and wants her as his wife, angering the man as he believed noble only marry other nobles. But all three were spared thanks to Marie Antoinette pardoning them, at that point General Jarjayes realized that his daughter was right all along about other nobles being unjust and because of social class the people and France were suffering and realizes Oscar was in love with Andre as well.
Despite knowing the truth, he decides to remain faithful to the crown till the end, believing it can still be fixed. Before he left, General Jarjayes gave his blessing to Andre to be his son-in-law, regardless of him being a commoner and begs him not to die. The last scene with General Jarjayes is him drinking wine in front of his daughter's portrait, awaiting her return until Andre's grandmother gives him a letter from Oscar saying thank you for raising a daughter like her, he became upset as he realizes his daughter will be taking the front line and can get herself killed and yells that he will not let her do that, but will soon find out his daughter has tuberculosis and will eventually die in a year regardless.
After the fall of Bastille, General Jarjayes tried to remain faithful to the monarchy until Marie Antoinette tried to escape house arrest, because of that act he lost all respect for the monarchy and for the queen his daughter served and lost her life for because of Marie Antoinette's negligence that caused the Revolution that got his daughter killed. When Marie Antoinette and Louis were imprisoned and were to be triad, he left France and went to Italy to serve in their military, and in 1794 he and his wife had to get divorced for convenience so she would be safe from execution from the people of France while he was in Italy because of his loyalty to the crown, until they got remarried in 1797. It is possible he mourned for his daughter and Andre's deaths.
He died in 1822.
Ad blocker interference detected!
Wikia is a free-to-use site that makes money from advertising. We have a modified experience for viewers using ad blockers

Wikia is not accessible if you've made further modifications. Remove the custom ad blocker rule(s) and the page will load as expected.